A WHOLE LOT OF EATING, NOT A LOT OF WALKING!
A while back I asked what you'd like to see on the blog as I don't really think people have the time to read big ol' reviews anymore and you told me that MONTHLY ROUNDUP'S and BEST OF'S were the way forward. So here it is, in honour of my first blogaversary, my first monthly roundup of eating out in Glasgow.
That's right, it's one year since I started this little experiment and I must say I've had a lot of fun doing it. I've eaten in some places I never knew existed and met a ton of great people as a result so here's to the next year.
If you follow my Instagram you'll know I've been laid up for the last couple of months with a broken leg. You may think that would have limited my eating, it didn't! I've still managed my fair share. It may have took me a while but once I got started on those pesky crutches there was no stopping me.
Absurd Bird
First up in July was a visit to Absurd Bird for their launch night. Being a lover of all things fried chicken I was really looking forward to this one. If you don't know, they're in a great location just off Buchanan Street in Nelson Mandela Place. The first thing you'll notice is the interior is very cool and quirky. A lot of time clearly went into the design of the space and I thought it looked great.
Sadly, however, when it came to the food I was underwhelmed. Judging food places on launch night's isn't always the easiest. Depending on the format of the event, it can be a great idea or a terrible one. Getting small samples can make it hard to decide if a dish is good, bad or just average. Some things I tried were good, others I wasn't so sure about. A bit more of them might have helped sway me one way or another.
I'm yet to decide if I'll go back to Absurd Bird. They do 50% off food on a Monday if you book online so I may give it another go as there was definitely potential there. With that said, I think it'll be a big ask for it to challenge Buck's Bar as Glasgow's best fried chicken joint!
Koko's Japanese Kitchen
Next up in July was a visit to Koko's Japanese Kitchen in Nice n Sleazy's on Sauchiehall Street. This was my second visit here recently and I think it may be one of the best-kept secrets in Glasgow! They do great Japanese food, as the name suggests, and recently started offering a Japanese burger that I had to try. Burgers, beers and the World Cup final, dream Sunday right?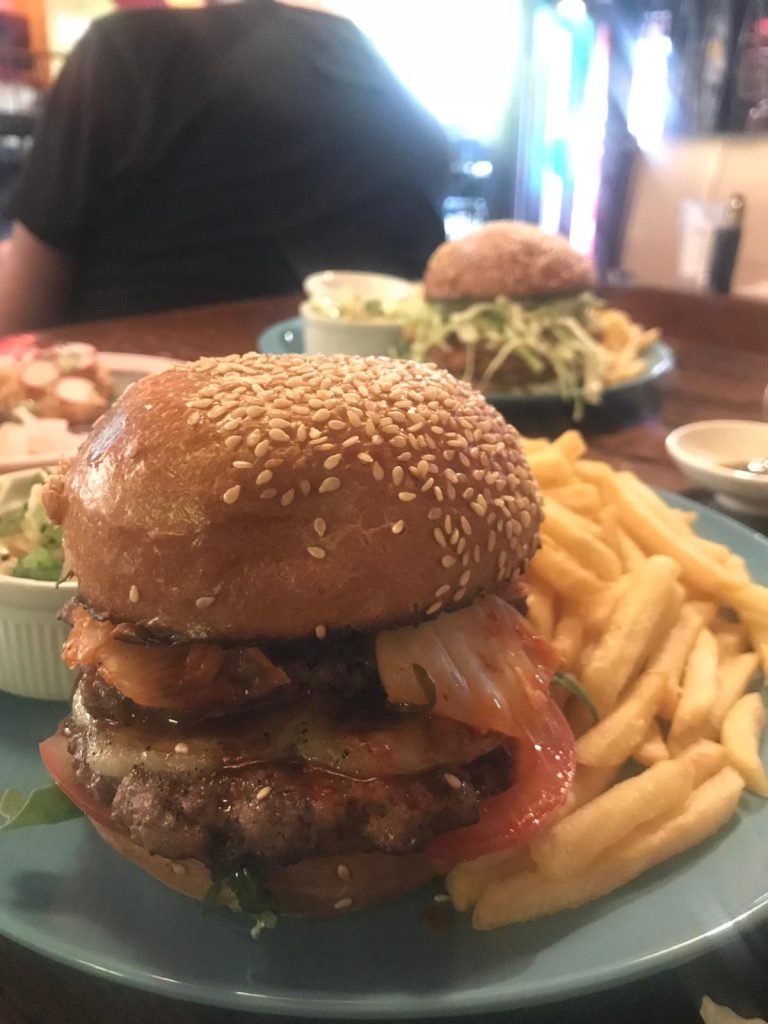 And it was a dream! Their Beef XXL burger (pictured above) is unbelievably good and unlike anything else in Glasgow. The patties, there's two of them, are juicy, seasoned perfectly and not too thick. There's also a generous helping of cheese and kimchi on top, which I am loving right now! Add some Japanese fruity BBQ sauce and wasabi mayo and you can see what I mean about it being different. It's all stacked in a toasted brioche bun and served with delicious fries. You need this in your life!!!
I also tried the Vegan XXL, fish tacos and pork gyozas. I've yet to find a dish on the menu I haven't enjoyed. I'm no expert either when it comes to veggie or vegan burgers but the Vegan XXL was better than some meat burgers I've had in Glasgow. These guys have made Sleazy's one of the go to spots in Glasgow for food in my opinion. If you haven't been yet then I suggest you change that, PRONTO!
DockYard Social
July signalled the long awaited return of DockYard Social. After giving away free entry and food to their relaunch, I thought it only right I got myself down to one of my favourite street food markets. After months of near misses and drooling over Instagram pictures I finally got my hands on a Smokey Trotters Kitchen burger, winner of Glasgow's best burger (pictured below).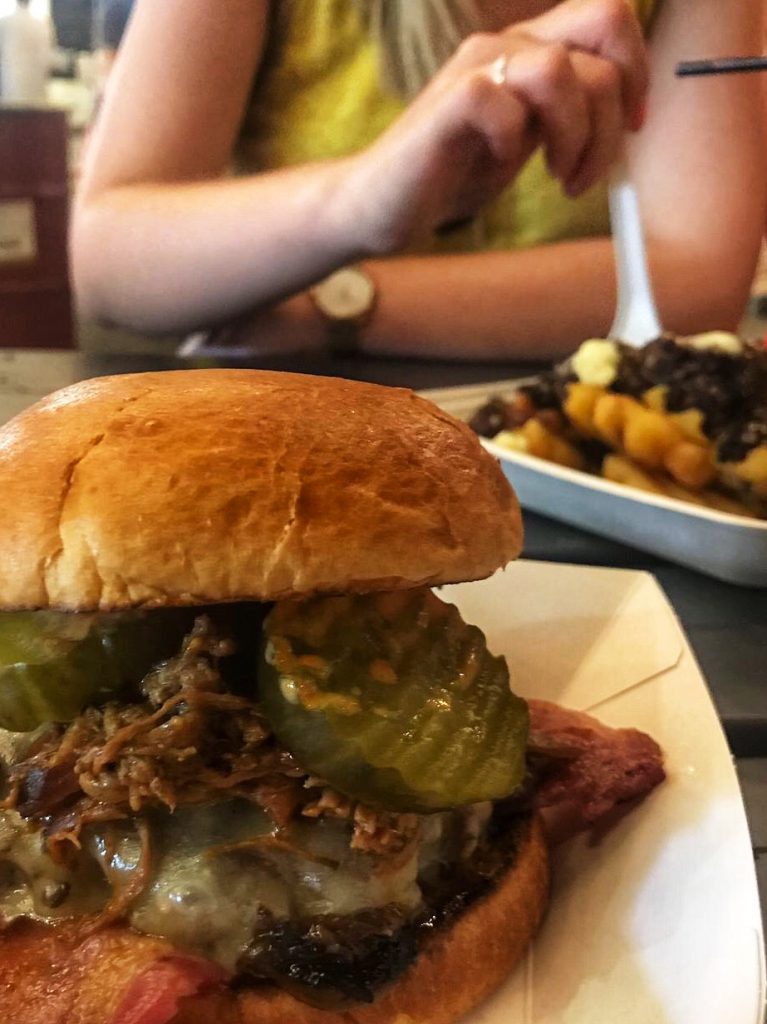 I went for the classic cheeseburger with added bacon, pickles and a huge dollop of hoisin and Buckfast pulled pork on top. WOW!!! I love burgers and this was just something else, it is without doubt one of the best in Glasgow! Smokey Trotters are now operating out of Gingerbrown's in Rutherglen and you can bet your ass I'll be heading there soon.
If that wasn't enough, I also got to cross Abandon Chips off my food list. I'm a big fan of the Abandon Ship brand and was keen to try their food crossover… it did not disappoint. We had the McPoutine, which was waffle fries with haggis, black pudding and cheese curds. Quite frankly, they were delicious.
We also had the Supreme Mac waffle fries, which weren't as good but hella tasty all the same! If a mammoth burger and two portions of waffle fries wasn't enough, I also paid a visit to Pizza Hawker. They had sadly ran out of nduja, my current pizza topping of choice, but the salami pizza I had instead was great. The base and crust were light and crispy and the toppings were delicious! Check all these guys out and Dockyard Social if you haven't already.
Rijsttafel @ Lagom Kitchen
This night is a prime example of something I'd have never known about if it wasn't for this blog. A one-off Indonesian pop up in Lagom Kitchen on a Saturday night that I was made aware of via a fellow blogger spreading the word! Cheers Rocco!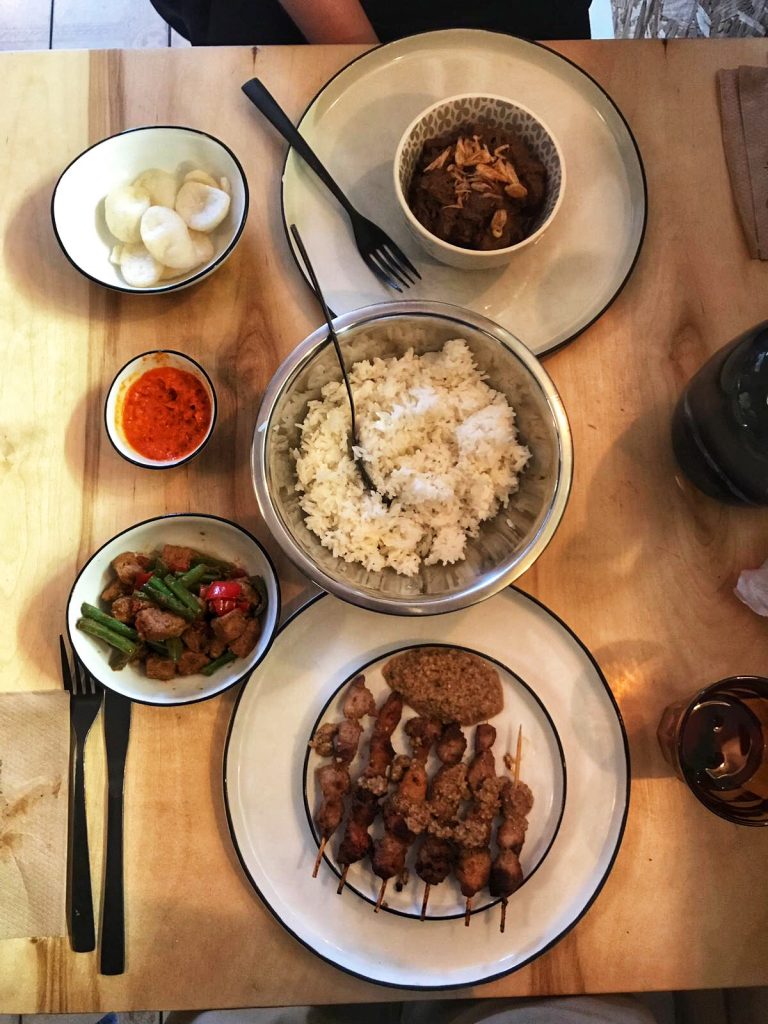 The idea is that rice is at the centre of the meal. Cue a massive bowl of delicious sticky rice before your table is adorned with plates of delicious food. There was 5 courses in total but this was completely different from any taster menu experience I've had before. There was chicken and aubergine satay that wasn't like any satay you'll get from the local takeaway. I rarely enjoy satay but this was great.
There was also stir-fry tempe which was probably the tastiest thing I've ever eaten made with soy beans! There was a deliciously spicy sambal served with prawn crackers which I loved! Then the star of the show was the beef rendang (below). I don't know if I've ever had a curry quite like it, I could have happily spent the night just eating that alone.
The night was BYOB so of course I had some delicious cherry beers to wash it all down with. That wasn't the sweetest thing of the evening though. There was a surprising yet delicious dessert made from sweet potato of all things (above). I'll be sure to try post about events like this in the future before they happen for those of you that would like to pop along.
Six by Nico
Last but certainly not least in this month's roundup was a visit to Six by Nico for the Cooking Mexico menu. There's very few places I'd wait until 9:15 to go to for dinner but this is one of them. Their menus always surprise and delight me and the Mexico menu was no different.
The highlight for me was undoubtedly the Pork Cheek Barbacoa dish that was just delicious. The Elote dish was the shock of the night! A tremendous sweetcorn risotto with green chorizo and pickled peppers that just completely changed how I view sweetcorn.
The Chicken Thigh Taco dish with strawberry salsa was delightful, as were the Nachos complete with homemade queso fresco and an avocado gazpacho. The Chocolate Taco dessert complete with a chipotle and banana caramel continued the trend of desserts that blow away my expectations.
The only downside of the menu for me was the Sea Bass Chilpachole Mixto dish that just didn't grab me. It's probably my least favourite dish of any visit and had too many things going on for my liking. That said, this was my 4th visit to Six by Nico and it's the only dish I can remember not liking.
I was also a little disappointed with the service on the night. The first time I've said that about Six by Nico and hopefully the last time. This place remains one of my favourite restaurants in Glasgow with its innovative and exciting menu concepts. I'm sure it won't be long before I'm raving about another one of their tremendous menus.
So that's July all summed up! It was a busier month than I anticipated giving the fact I spent half of it in plaster. But it was certainly a good month for eating out in Glasgow.
Let me know your thoughts about this post in the comments. Did you enjoy the roundup? Have you been to any of the places mentioned? Where would you like to see me go next?