GLASGOW'S BEST FRIED CHICKEN!
| Follow: @buck.bar |
When it comes to fried chicken in Glasgow I've yet to find better than Buck's Bar. I've been a big fan of them for a while now, ever since my first visit when I popped along for their Sunday waffle brunch. After several visits I thought it was high time I wrote a review about the delicious and different items on offer. As well as their normal menu and the aforementioned Sunday waffle brunch menu one of my favourite things about Buck's is their specials. Whether it's the Buck Mac or the Mac n Cheese waffles they seem to continually knock it out the park with them.
Another thing I like about Buck's is that it's also a great place to head into for a few drinks and a catch up with friends. There's several different things on throughout the week from Quiz Nights to Open Mics as well as some great food offers like Wing Wednesday and Tuesday burger deals. Over the weekend there's also live music and DJ's meaning there's always something going at Buck's to keep you entertained after the food is finished and the plates are cleared.
Now we've covered that let's talk about the food. Although Buck's specialises in fried chicken it doesn't mean there's a limited menu. If there's a way to enjoy fried chicken they seem to have it covered on their menu. From wings to waffles via buttermilk fried chicken burgers, Buck's seem to have a dish or more for it. They also offer a range of sides in case you want some veggie goodness and part of your five a day (chips are part of that right???).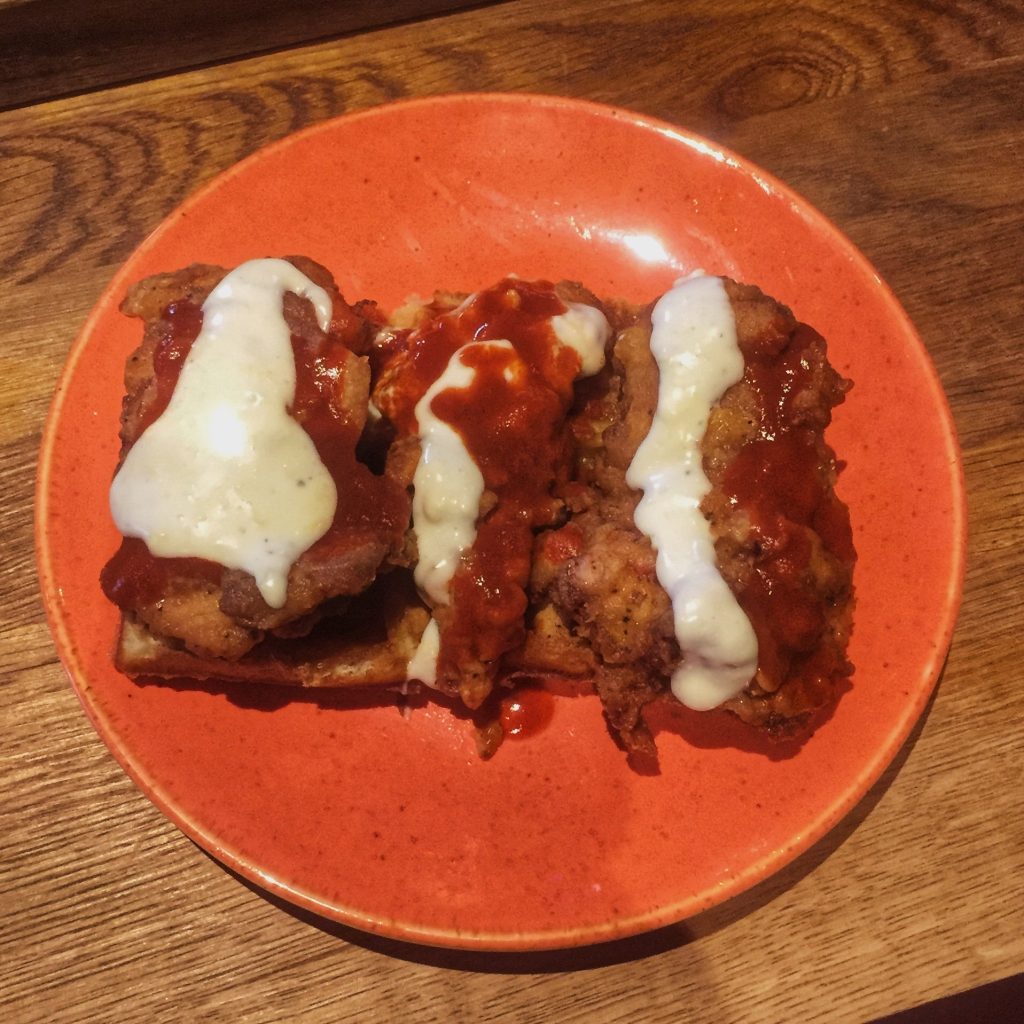 My first visit to Buck's was to try their Sunday waffle brunch menu as I'm a big fan of fried chicken and waffles. Now you can get this at Buck's anytime but on a Sunday there's a wider menu so if  like me you like your fried chicken on top of some waffles I'd recommend a Sunday visit. I went for the Buffalo Blue; 3 pieces of boneless buttermilk fried chicken with hot sauce and blue cheese mayo. The combination of hot sauce and blue cheese mayo is a classic for a reason. They work well together to make sure neither overpowers the dish.
The fried chicken though, like most dishes I've had from Buck's, is very much the star of the show. The chicken is moist and cooked to perfection and the buttermilk batter on the chicken is crisp and crunchy. To me this is a perfect hangover cure after a few beers the night before. It's packed with flavour and is a generous portion size to ensure any lingering hangover blues are swiftly forgotten. And I say that from experience. To check out the full selection on the waffle brunch menu click here. Next time I visit for Sunday brunch I have my eye on the Bourbon Bacon waffles.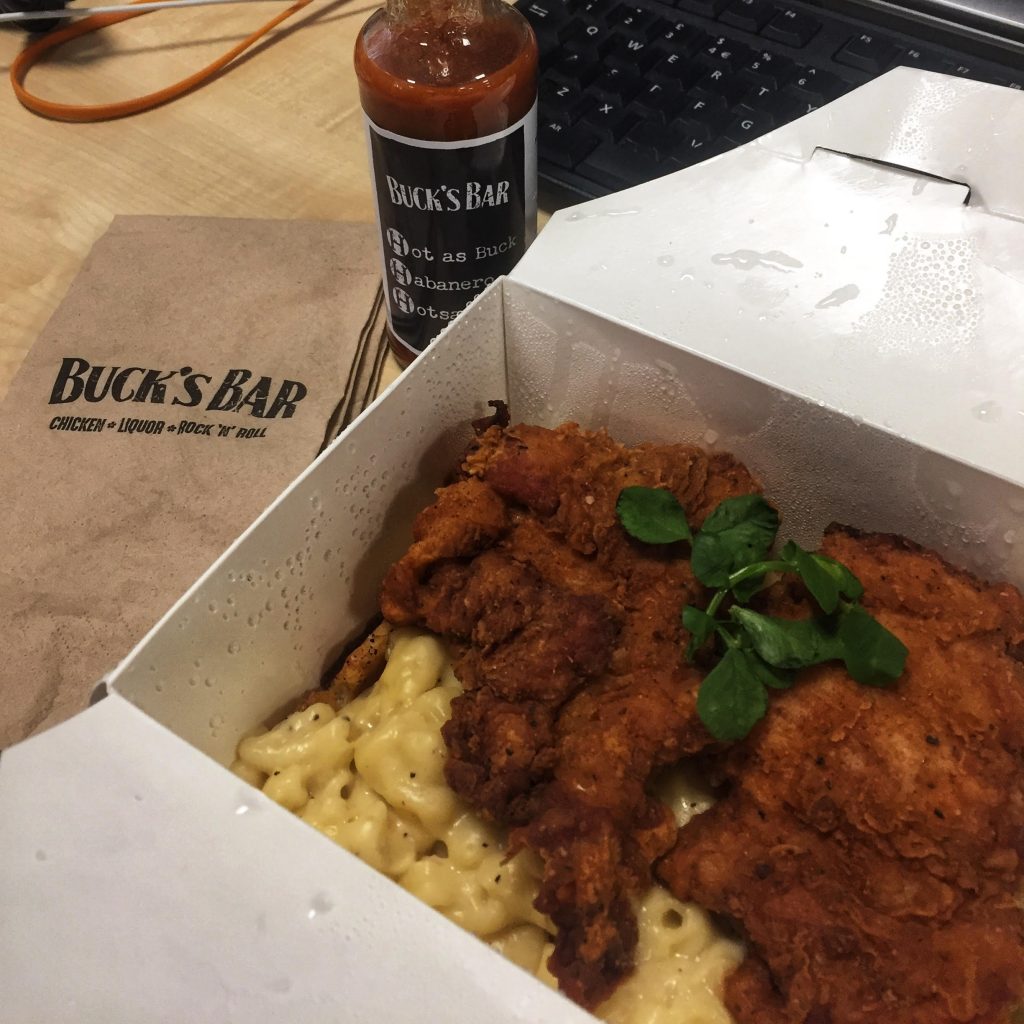 Now while we're talking about waffles lets talk about the current special available at Buck's Bar right now; Mac n Cheese waffles! When I heard about this one being launched I just knew I had to try it immediately. What's not to love? Fried chicken, check! Mac n Cheese, check! Waffles, check! Drizzle over a little hot sauce and I was in lunch heaven. The day it launched I took a drive on my lunch hour and picked up one for takeaway.
If I'm honest I was worried how it would be after the drive. To my amazement the waffles hadn't went soggy and the fried chicken was still nice and crispy on top. I made sure to pick up a bottle of Buck's own hot sauce while I was in too as one of my favourite things about Buck's is the hot rack. A massive selection of weird and wonderful hot sauces to enhance any dining experience. This dish was a winner though. I loved the combination of the mac n cheese with the fried chicken and hot sauce. And the bed of waffles it was on was just the prefect end to a great lunch. If you haven't tried this one yet then I'd recommend giving it a go!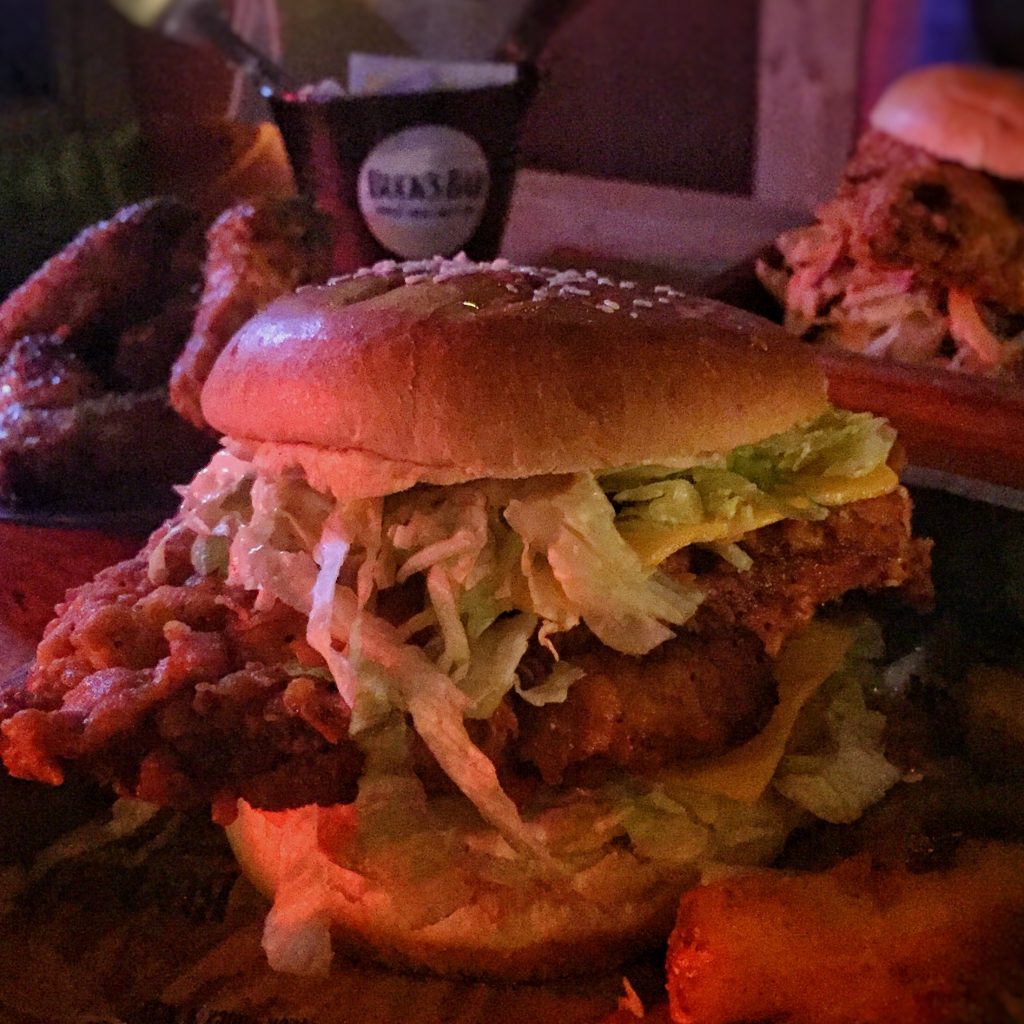 Talking of specials, no conversation would be complete without mentioning the Buck Mac! Now the picture may not be the best but don't let that subtract from this dish! This is hands down one of my favourite dishes in recent times. How many times have you found yourself contemplating a McDonald's because you've seen the adverts or maybe because you're feeling a little hungover? How many times have you got one and just been that little bit disappointed? This is the answer!
I couldn't tell the difference between the sauce on this burger and the sauce on a Big Mac. More importantly though, it was just delicious. The sauce works very well with crispy fried chicken substituted in for the burger. The fact that this dish has been brought back due to popular demand after a successful first showing and has been on the specials board since January speaks for itself. The Buck Mac needs to be tasted!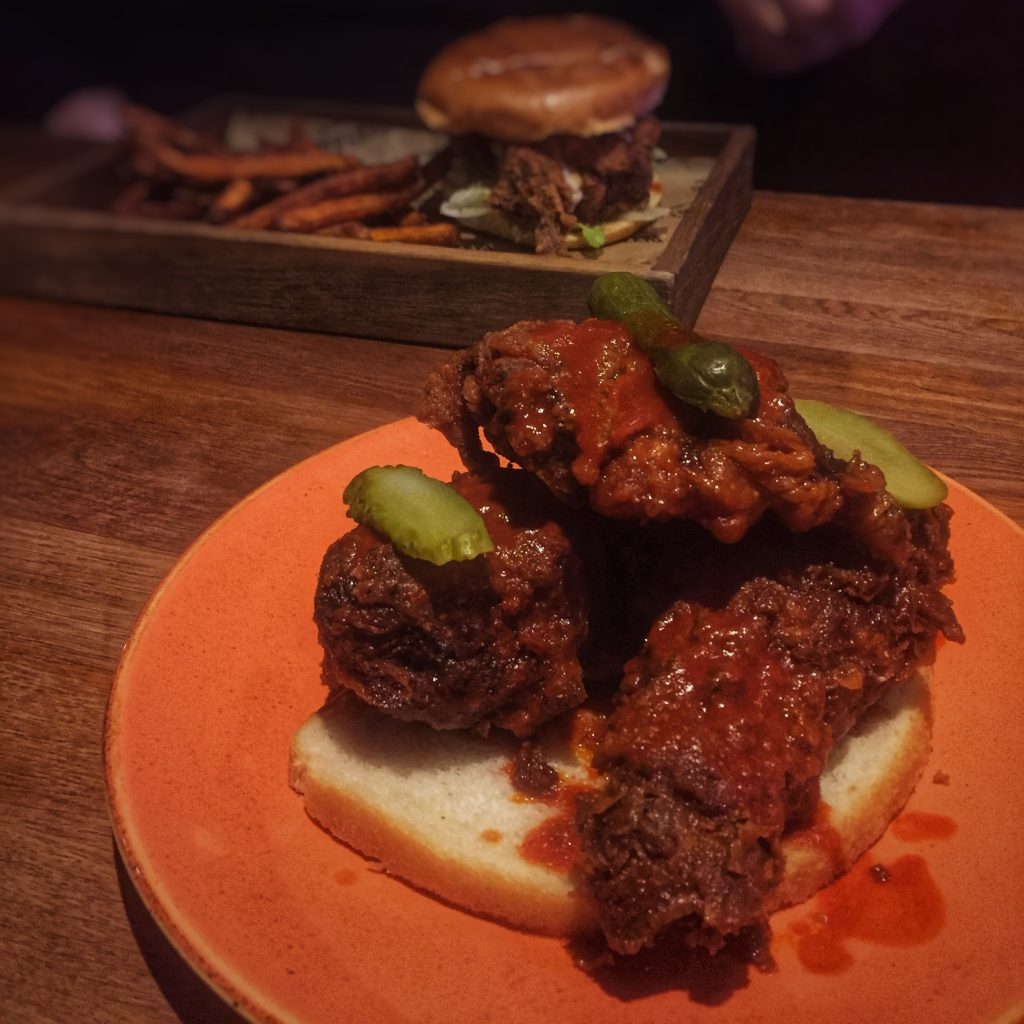 Another dish that is perhaps a tie for my favourite on the Buck's menu is the Nashville Hot Style chicken. As the menu warns this dish could be seriously addictive. I went for the damn hot the first time I tried this, it's available in 3 strengths: Hot, Damn Hot and Double XX. I'm planning on working my way up to the Double XX as we all know I love my spice! In essence it's 3 pieces of fried chicken on a slice of bread. In practice though it's much more. The chicken is dipped in a fiery red chilli oil and then served with pickles which work well to cool the heat and taste delicious.
This one's a bit messy to eat but worth it if you like your chicken fried and hot. Get it with a side of rooster chips or sweet potato fries and you're well on your way to a delicious meal. If you haven't noticed I love my fried chicken, this type of 'dirty' food is perfect for lunch or dinner and especially great when you're suffering from the night before. I've yet to try a dish on the menu at Buck's that I haven't been a fan of, it really is that good.
I'll finish off with a quick mention for two of my favourite accompaniments on the Buck's menu. First of all the wings; there's plenty of choices for these and you can choose between a serving of 4, 8 or 12. They're big wings too and I really like the Buck's 25 ingredient barbeque mop sauce with mine. What those 25 ingredients are i have no idea but what I do know is they make for some tasty wings!
Last but certainly not least is the salt and chilli chips side dish. It looks just like something you'd order from the local Chinese takeaway. The chips used here are of a much better standard though I'd say. I've had these, the rooster chips and the sweet potato fries and I'd say all work well. The first time I got the salt and chilli chips was actually at the waffle brunch but I may have been a bit tender that day and in need of all the carbs!
If you need any more reason to check out Buck's Bar then check the links provided to their website and social media presence. You'll find more detail on what's on offer food wise, drink wise and entertainment wise, If you haven't checked out Buck's yet then you're missing out! Glasgow's best fried chicken? I've yet to find better!
BUCK'S BAR REVIEW
Food: 8/10
Atmosphere: 8/10
Value for Money: 8/10
For more information follow Buck's Bar: Website | Facebook | Instagram
Follow Chris Eats for more posts: Facebook | Instagram | Twitter