STEAK NIGHT!
| Follow: @ffwestend |
When it comes to steaks in Glasgow there's no shortage of choices. From The Spanish Butcher to pub grub it's possibly one of the most widely available meals out there. So how does a newcomer make themselves stand out from the crowd? In the case of Finsbay Flatiron; focusing on one particular cut of meat and doing it exceptionally well seems to be the way!
It seems like every food blogger in Glasgow, and some, had been down to Finsbay Flatiron since it opened earlier this year. It took over from pop up Cock and Bull in the old West premises in the west end. The buzz was this was somewhere doing great value food that was pretty damn tasty to boot. Being a steak lover myself I decided it was high time I paid a visit.
I'd been looking for a time to go and when a restaurant booking I made fell through, me and the girlfriend decided to take advantage of their midweek deal (£8 steaks) and head on down. I really liked the feel of the restaurant although it was a tad quiet when I visited. I'll put that down to it being a Tuesday evening as I know from their social media it's normally pretty busy.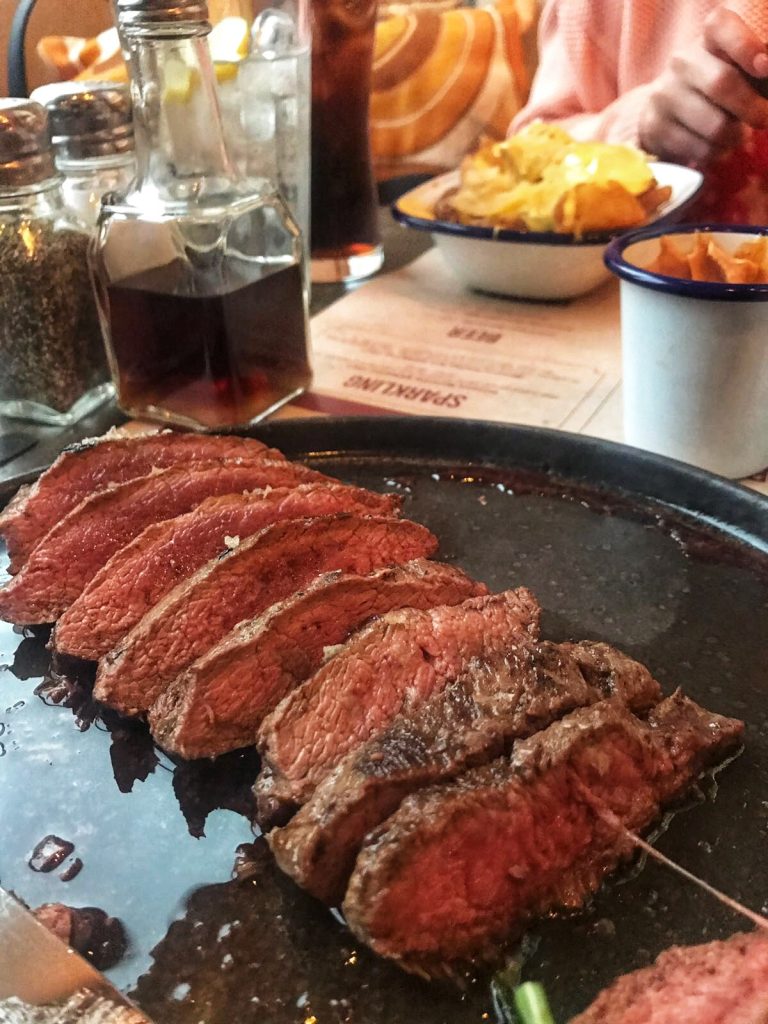 So lets talk steak! We both had our steaks medium rare. As you can see from the picture the steaks were cooked perfectly. Flatiron steak can be tough if not prepared and cooked properly but thankfully this wasn't the case. All the meat at Finsbay Flatiron is Scottish and butchered locally which is a nice touch.
Flatiron is also a particularly flavoursome cut of meat and this certainly was the case with the meal we enjoyed. This was my first time trying this cut and I wasn't let down, there may be tastier cuts out there but as far as value for money goes this was a winner for me. I'd defintely recommend getting yourself down and trying this for yourself.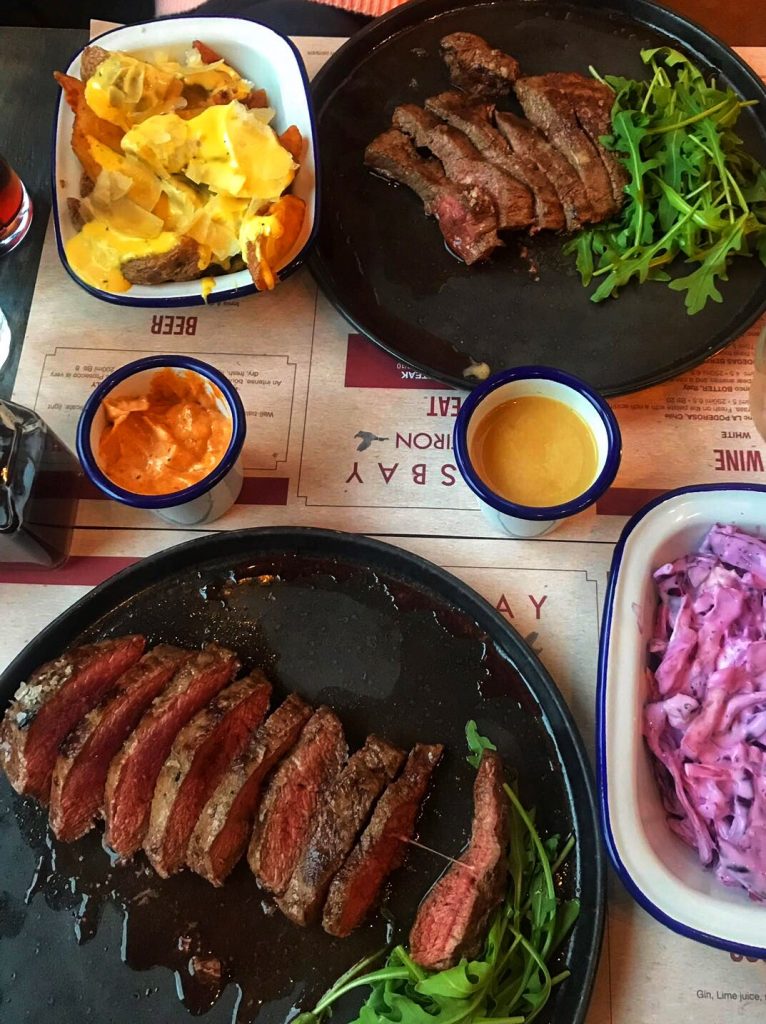 Now let's talk about the rest of the meal. The steak was served with a house salad which was basically some rocket on the side. I like rocket and ate it all while I enjoyed the steak. It was nothing groundbreaking but I thought they worked well together as you don't want too many flavours overpowering the steak.
For sauces we ordered one classic; peppercorn and one a little different; chipotle funk. You won't hear me say this often but the peppercorn sauce was outdone on this occasion. I prefer my sauce a little thicker and cremier and though the taste was great it was a little runny for me. The chipotle funk however, now that was excellent. It was thick, creamy and packed with that smokey chipotle flavour. Another winner right there.
Next up were the sides. To view the full range on offer you can view the menu here. With a wedding on the horizon me and K were attempting to be healthy(ish). We opted for the red cabbage slaw and the parmesan and hollandaise double cut hand cut chips. Healthy(ish) I said ok, before you judge me too harshly!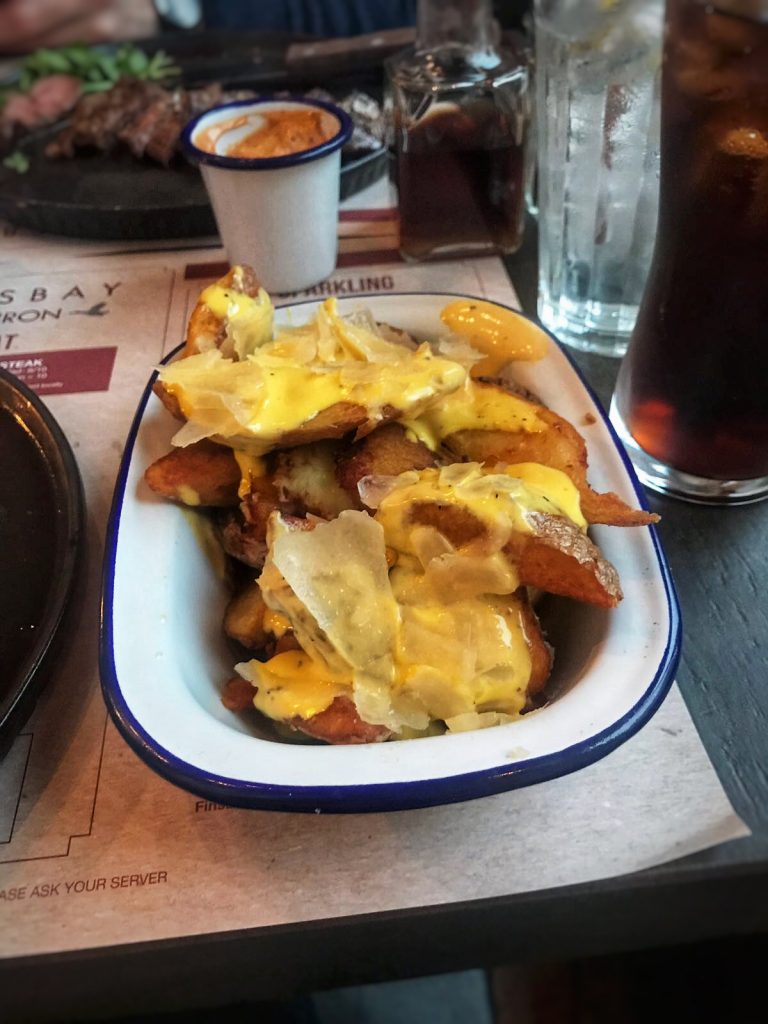 The red cabbage slaw was fine, tasty enough but certainly wouldn't have been my first choice given free reign with no suit to fit into on the horizon. Now the parmesan and hollandaise chips on the other hand were a masterpiece. This is a flavour combination I would never have imagined working so well together. But it did and my God it was delicious.
The chips alone were pretty tasty, anyone who loves a good chip will appreciate these. They were topped with a delicious and creamy hollandaise sauce and wide shavings of parmesan goodness. I love parmesan on anything, very rarely does it occur to me as a topping for chips but from now on it will be front and centre of my thoughts.
All in our meal came in at just under £30! For 2 steaks, sides, sauces and soft drinks that's pretty damn good. I'd recommend getting down and trying Finsbay Flatiron for yourself as I was blown away by the taste and value. I'll definitely be heading back soon that's for sure. Need to work through those other sides and some of the specials sounded great! Coffee burger anyone?
One word to the wise though, it's cash only. Don't get caught like me, running in the rain to grab some cash after a delicious meal!
FINSBAY FLATIRON REVIEW
Food: 8/10
Atmosphere: 7/10
Value for Money: 9/10
For more information follow Finsbay Flatiron: Website | Facebook | Instagram
Follow Chris Eats for more posts: Facebook | Instagram | Twitter