PARTICK'S PAN-ASIAN PARADISE!
| Follow: @honuglasgow |
Honu first caught my eye on Instagram under it's previous guise of The Pacific Canteen with it's colourful flamingo logo due to my girlfriends love of them. So when I started following Honu and saw the pictures of their bright and varied dishes you could say my interest was piqued.
You can imagine my excitement then when I received an email from the guys behind Honu inviting me and the little lady along for a night of food and drinks to see what their new menu and renovated space was like. Having never been in The Pacific Canteen I've nothing to compare the new decor against but I'd be very surprised if it was half as sleek as the new look.
The flamingo glasses were a nice touch and link to the past of Honu but the fresh walls and large windows made a small space seem so much more open. What you can't see in the pic is the amazing blue wave wallpaper that really gave the place a fresh vibe (and that's my bad for not taking a pic).
Now sadly I had to leave prior to the last few dishes, not because I wasn't enjoying it but because I had a prior engagement. The food was served in smaller taster portions or sharer portions; which was just as well or they may have had to roll me out of their in the end.
So let's have a look and a chat about the food. There were some intriguing and out-there dishes mixed in with some interesting twists on old classics. At first glance it was a strong menu, and that wasn't coloured by the glass of champagne I had in my hand as I perused it.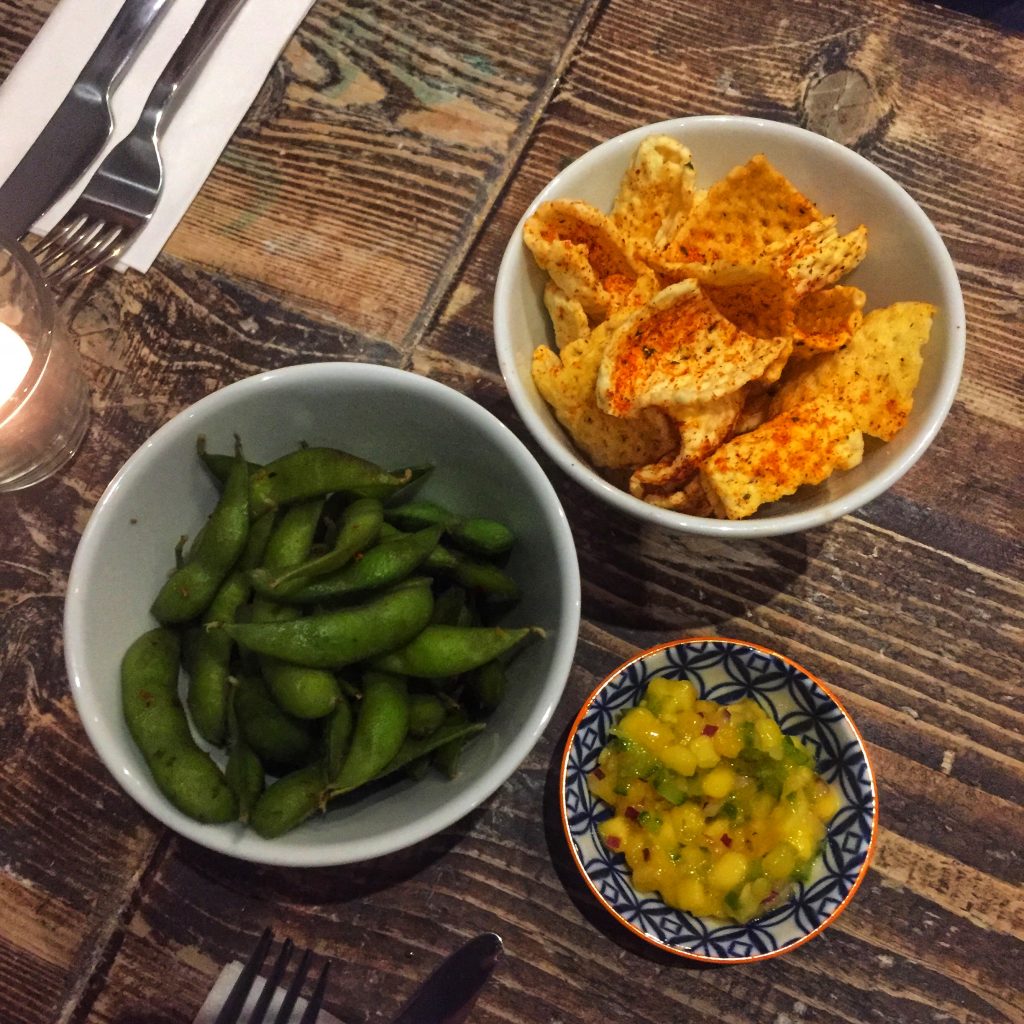 First up as we chatted and looked over the menu were the nibbles. Now normally, edamame beans wouldn't be the most appealing option on a menu to me but season anything in salt and chilli and I'm instantly more interested. As nibbles go they were pretty good, packed with flavour and light so as not to fill you up. Would definitely consider having these again when I go back.
Alongside the edamame beans were the pumpkin crisps, seasoned with togarashi spice and served with a mango salsa. For me these were the real winners of the nibbles, think prawn crackers but with a little kick from the togarashi. They were delicious and with the mango salsa they were perfect. I'm not normally one for fruit with dinner but the salsa was one of the most refreshing things I've eaten.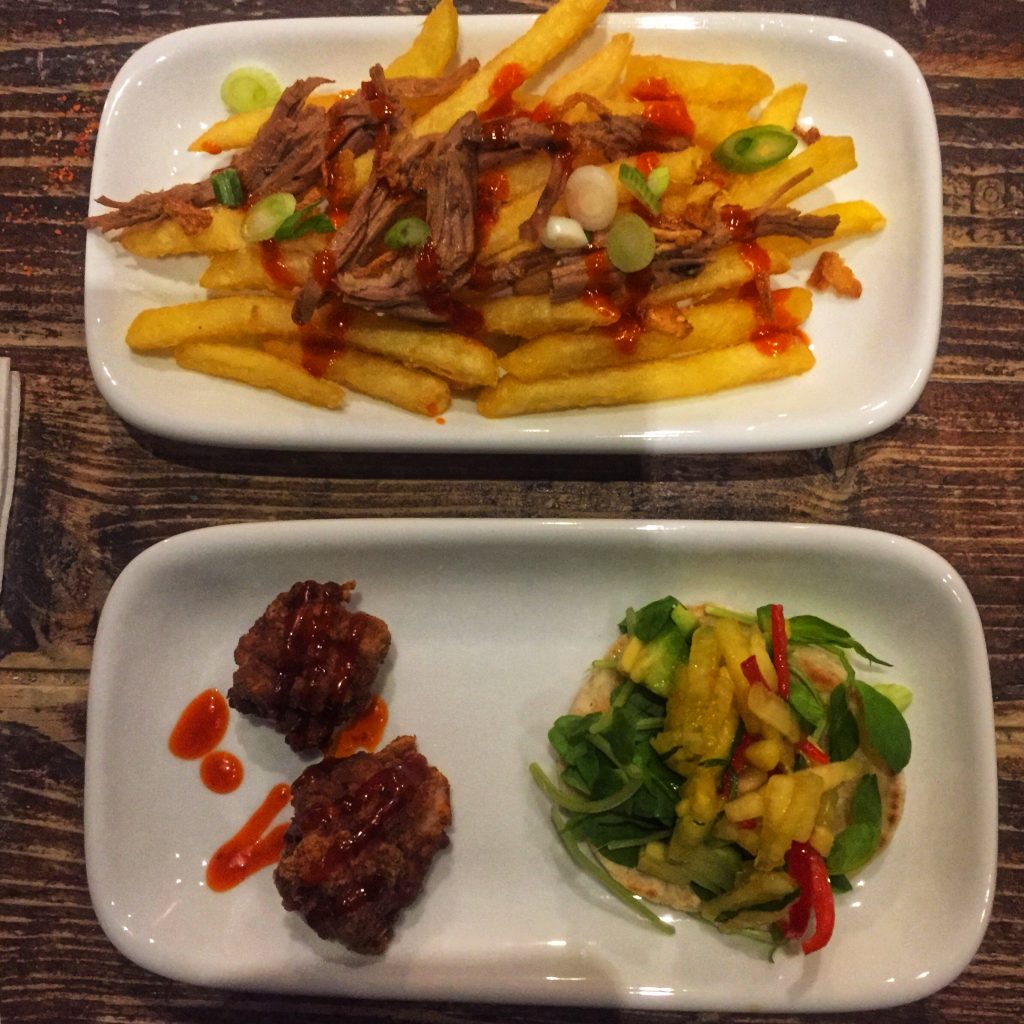 Next up were the starters and as you can see from the pic above there was a great selection to choose from. As much as I'm a man who loves his fries, the best part of this course was the Korean chicken bites in a sweet and sticky gochujang sauce. It's no exaggeration to say I could have gladly filled a bucket with these little bites and been a very happy man.
Did I mention I'm a fries kinda guy? I think I might have! Well the skinny fries here were served with brisket on top with spring onions, crispy shallot and gochujang sauce! Seriously this sauce though, very versatile! I need to pick myself up a bottle of this stuff stat. The fries though were tasty, nice and crisp as skinny fries should be and the toppings certainly added to them, would get these again for sure.
The final dish on the starters was the avocado and pineapple salsa flatbread taco. Similar to the mango salsa earlier this was a really refreshing dish and perhaps, surprisingly very enjoyable. That said, having seen the full menu I believe the pineapple salsa flatbread taco will be available with grilled halloumi and yoghurt topping and that's something I'm keen to try!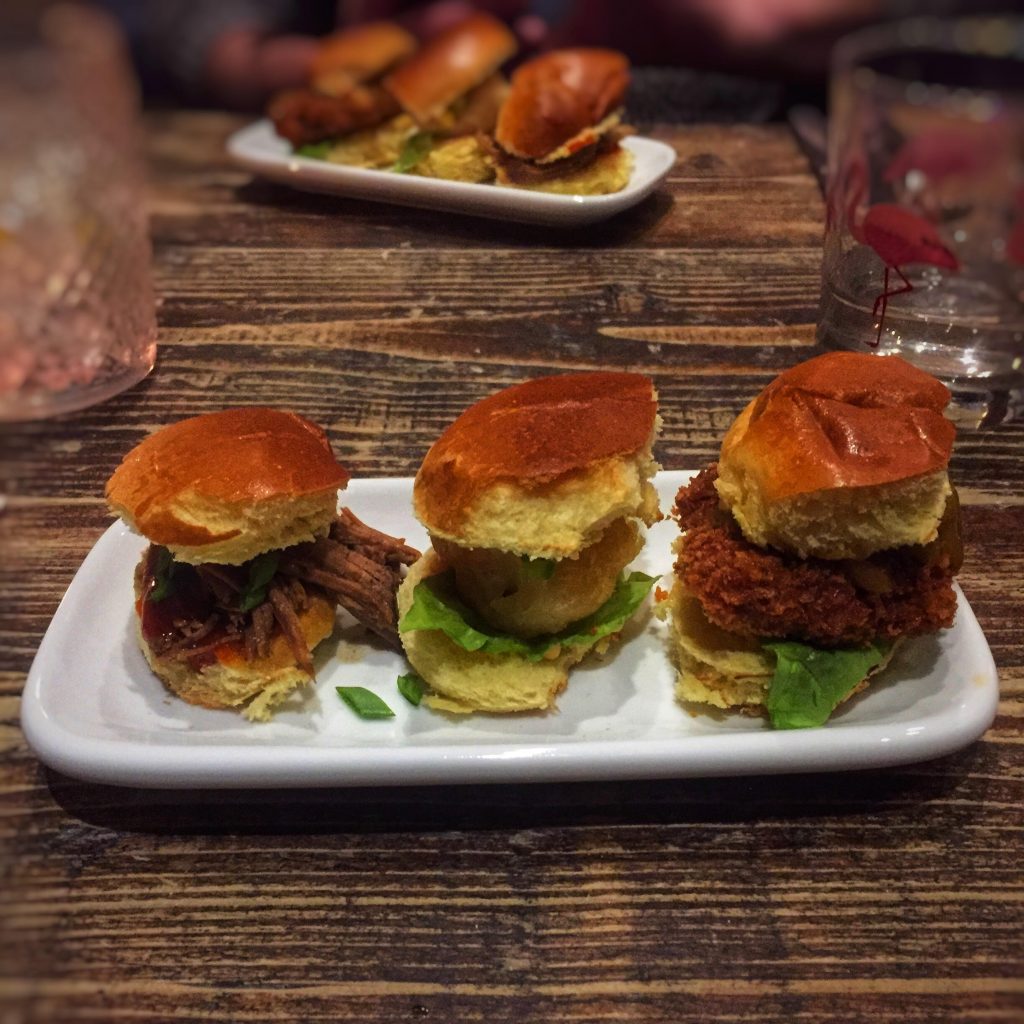 Then we had the mains, some wonderful and some weird but for me … all delicious! First up was the trio of sliders; beef brisket, fried chicken and tempura prawn was what the menu described but what was served was everything that promised and more! All of the 'burgers' were served on a brioche bun which was a strong start in my eyes.
The beef brisket was again paired with the gochujang sauce, and why not? If it ain't broke as they say! The slow cooked brisket was delicious and the sauce and spring onion complimented it perfectly. The tempura prawn was served with a mango salsa, spicy mayo and baby gem which pleased me as I'm now a massive mango salsa fan!
Saving the best for last though was the fried chicken burger or should I say chicken Katsu burger!!! Who doesn't love katsu? brioche bun, fried chicken, katsu and spicy mayo with baby gem… need I say more? OK, one more word, delicious! On the new menu, all of these are available as full sized versions and served with skinny fries for £10 or less! that's excellent value as far as I'm concerned.
Now I've been a bit cheeky and skipped a dish because I want to save it for last so for now let's talk about the Thai red curry with kaffir lime and crispy shallot rice. Thai curries are something I know a bit about having spent 5 weeks travelling Thailand a few years back. I also make a pretty mean Thai green curry myself.
This was probably the dish I enjoyed least, not because it wasn't good, it was very good in fact! But with the menu being quite different and varied, it just seemed a little safe. That's OK though because not everyone will be adventurous and Honu are clearly creating a menu to cater to both the adventurous foodie and those who enjoy good pan-Asian cuisine.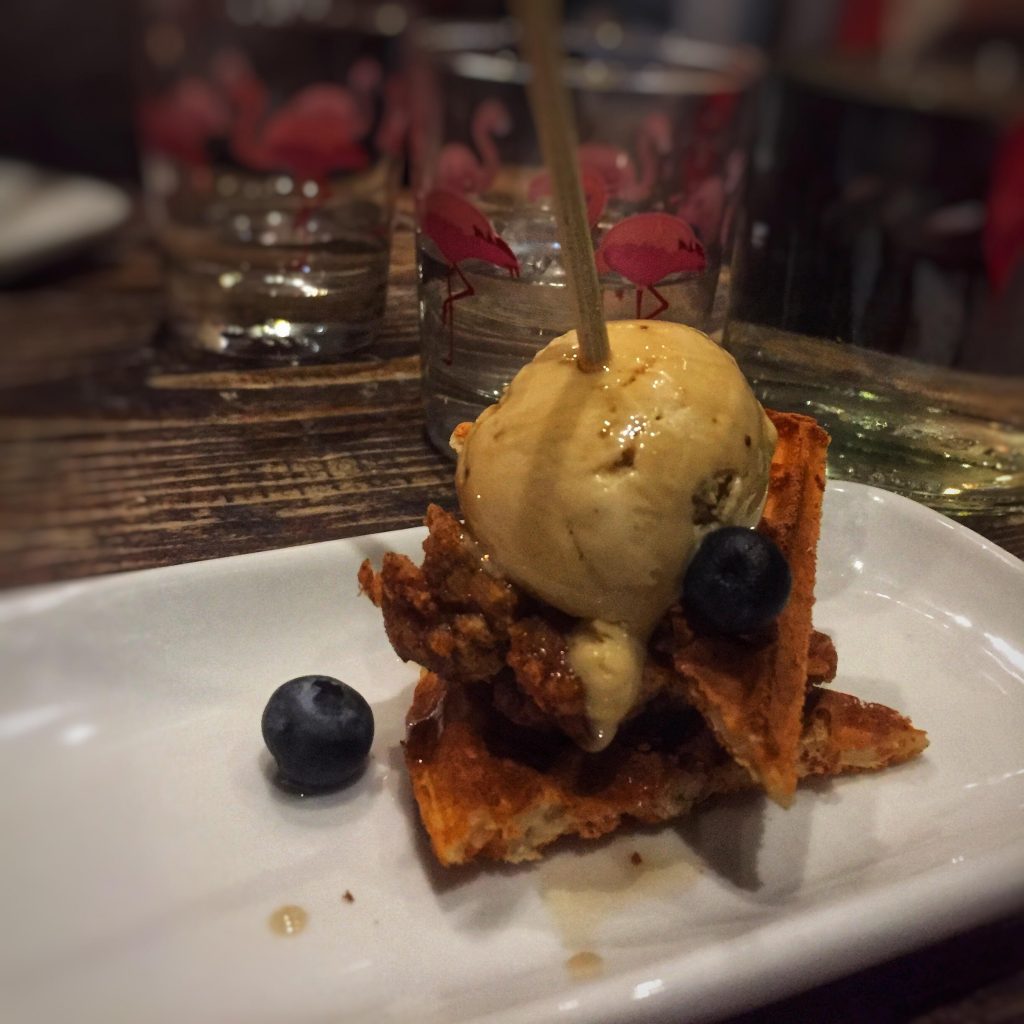 Last but certainly not least is the dish that is sure to divide opinion: Sweet Chix Waffle! Love it or hate it you'll definitely be talking about it! I was in the former, I loved it! It was so different from anything I've ever had as a dinner before. In a nutshell the dish is a waffle topped with fried chicken, blueberry infused maple syrup, blueberries and hazelnut ice cream!
No your eyes aren't deceiving you, fried chicken and ice cream on the dinner table! This is the next logical step in the chicken and waffle evolutionary scale as far as I'm concerned. I'm excited to see what other variations may be created on the back of this; savoury ice cream flavours? Bacon ice cream? My mind is running with possibilities. I also really enjoyed the contrast of the hot chicken with the cold ice cream and the juxtaposition that created.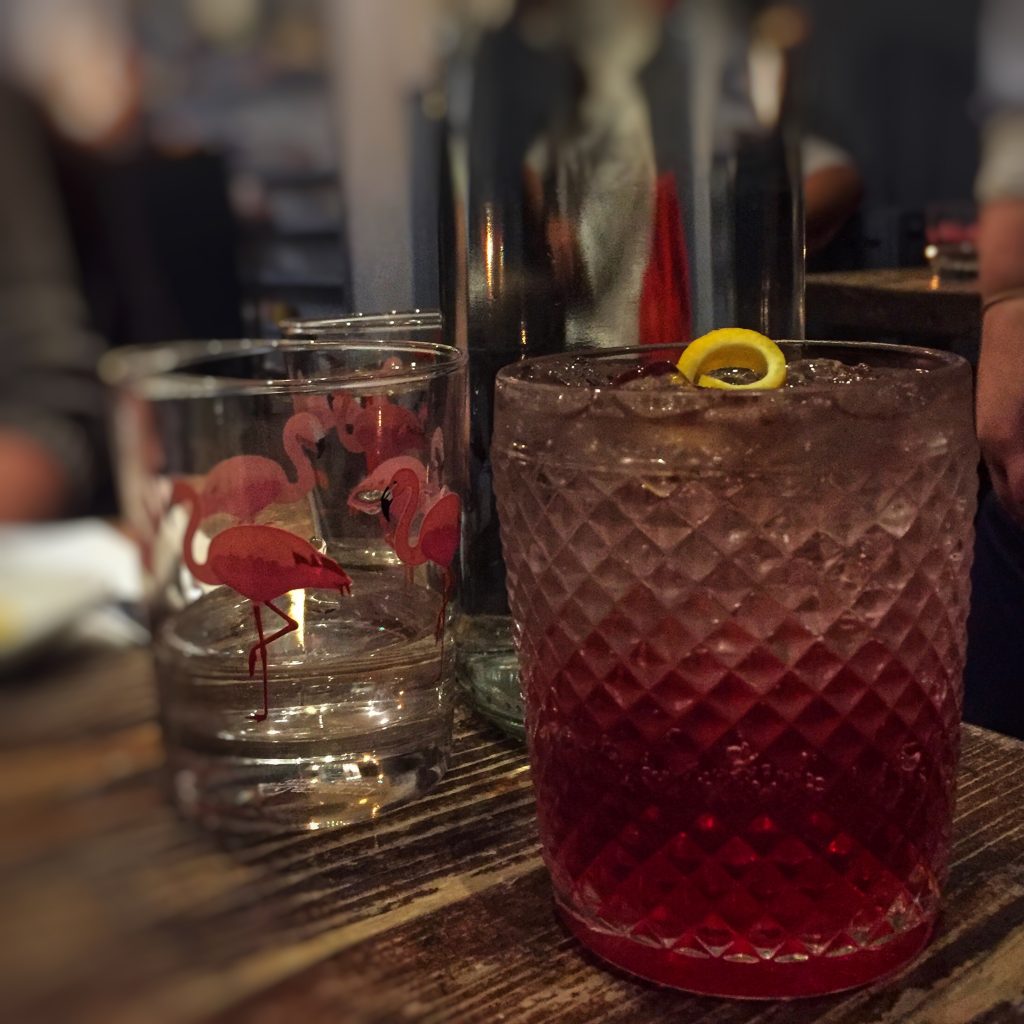 All in all this was a great night of food tasting with a few drinks thrown in for good measure. I'd be remiss if I didn't mention the new signature cocktail, the Hello Honu: gin, creme de cassis, lemon and sugar. This was a great cocktail, it was so refreshing but also packed with flavour and worryingly didn't feel too much like drinking alcohol! Refreshing to me was the theme of the evening; the decor, the food and the drinks were all really light and refreshing.
I'll definitely be back to Honu to try some of these dishes in full as well as some others I spied on the full menu that really caught my eye! The grilled halloumi flatbread mentioned earlier would definitely be on my wish list for the next visit as well as the chicken wings and gyoza small plates.
In terms of the mains there's another waffle dish including fried chicken, maple syrup and buffalo hot sauce which sounds like it'd be right in my wheelhouse. I'd also like to try to poke (po-kay) bowls having missed it during the tasting so plenty of reasons to go back.
I'd definitely recommend going to Honu if you like Asian cuisine or if you're adventurous and keen to try something a bit different. All the dishes were packed with flavour and the drinks packed a nice little punch too!
HONU REVIEW
Food: 4/5
Atmosphere: 4/5
Value for Money: 4/5
For more information follow Honu: Facebook | Instagram
Follow Chris Eats for more posts: Facebook | Instagram | Twitter