LOUISIANA FOOD FOR THE SOUL!
| Follow: @bargumboglasgow |
Whenever I speak to my friend about food there's always one place he talks about; Gumbo. If he's not in Gumbo, he's telling me about his last trip to Gumbo or plans for his next visit there. So it made sense when we decided to meet up that Gumbo should be the venue.  I'd been once before, years ago, and had a decent burger but upon inspection of the menu it seemed there was much more to be sampled there this time round.
There's a great menu at Gumbo, and a different menu from most places in Glasgow which is refreshing. Considering the array of food places on Byres Road this helps Gumbo to stand out from most other bars offering food. From the small plates, like Catfish bites for the peckish, to the big stuff dishes like corned beef brisket for the ravenous there's a Cajun twist to most things.
There's also a few other unusual choices on the menu like their namesake dish Gumbo, sizzlin' skillets, jumbalaya and a range of Po' Boys. After that you have the classic burgers, steaks and dogs options as well as a range of sides and desserts depending on your appetite.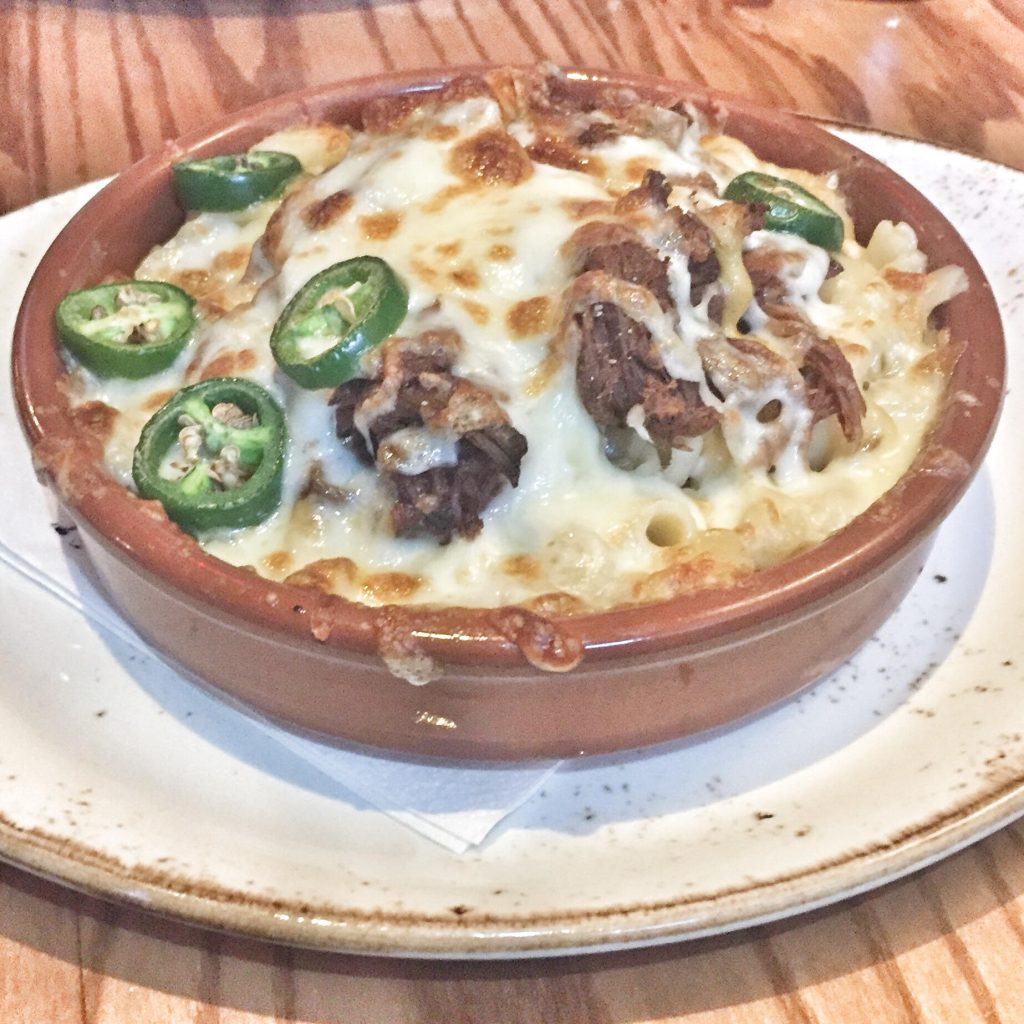 First up for me with dinner was some mac 'n' cheese that I ordered as a side. There's 3 choices of mac 'n' cheese which pleased me no end as I love mac 'n' cheese and the only thing better than mac 'n' cheese is mac 'n' cheese with added extras. I opted for the pulled beef double baked mac 'n' cheese with jalapenos which was delicious.
The portion was more than generous and a relative steal at £5. It was also packed full of flavour and the jalapenos added a nice little kick. I'd definitely recommend trying this if you go to Gumbo though bear in mind it's a large portion so plan you're eating accordingly.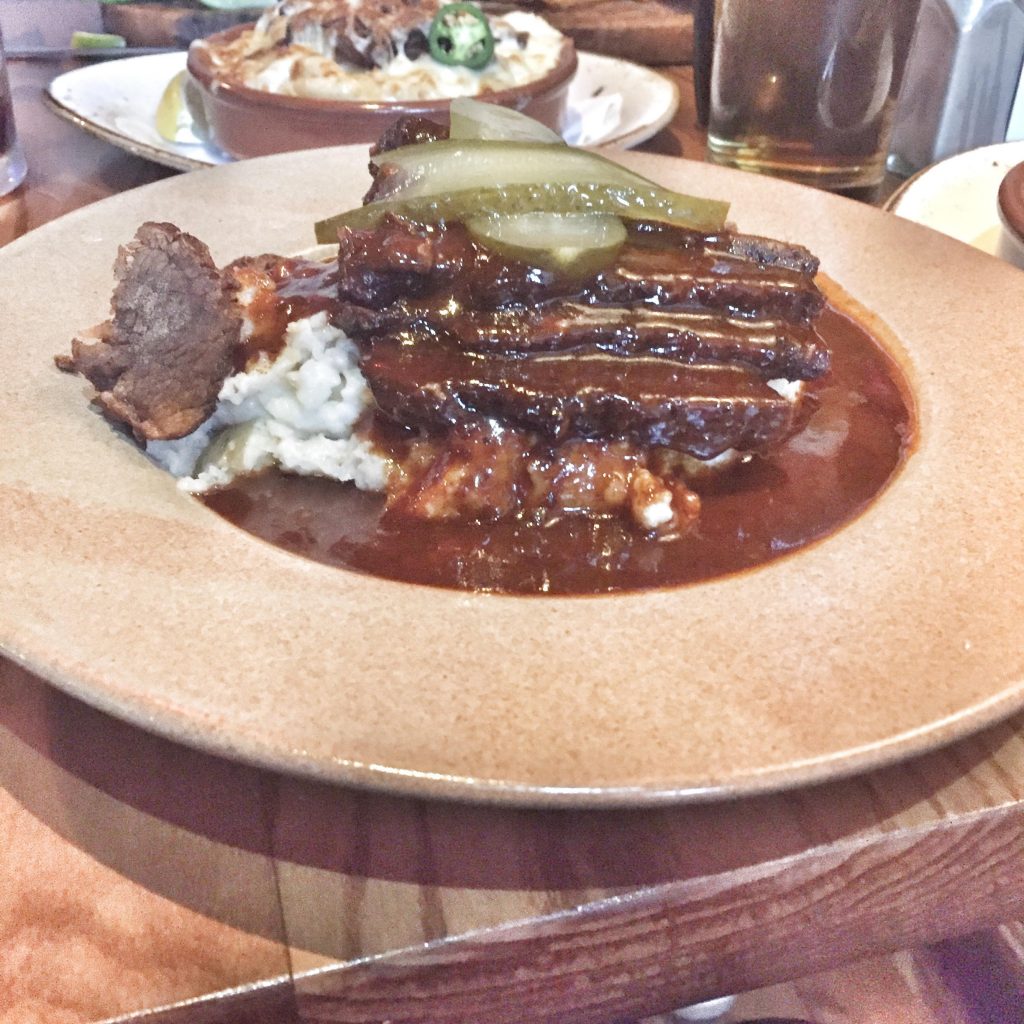 Next up for me was the American corned beef brisket which was £11 and again this was a very generous portion. Now it might not be the best looking dish you've ever seen but it was damn tasty. The slow-cooked braised beef was nice and tender and was served with potato and onion fricassee.
Now I'm not sure what fricassee is in all honesty but again it was delicious and the BBQ gravy that the dish was swimming in was better than any gravy I've had before. I picked this dish because it was a bit familiar but with a twist and didn't regret it, definitely one I'd recommend.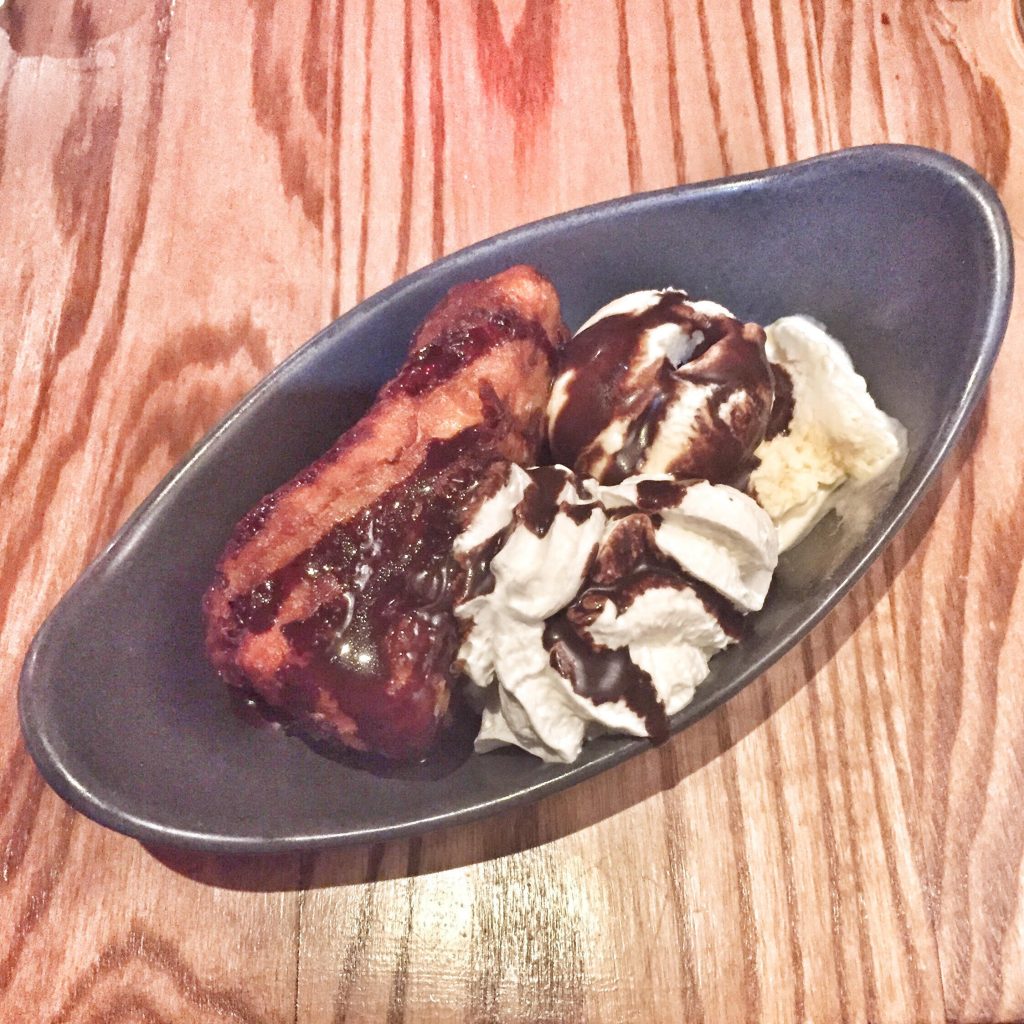 Last up on the day was dessert. I decided on the deep fried cheesecake because… well because it was deep fried cheesecake! This was the one dish I was a little disappointed in. For the most part it was good and at £4.50 not too expensive. It's hard to put my finger on what disappointed, maybe it was just my own excitement and expectation that built it up because I love cheesecake in case that wasn't already clear. Maybe it was the chocolate sauce… apparently if you ask there's toffee sauce available. Maybe next time!
I'd definitely recommend giving Gumbo a try as the food was good and reasonably priced. There wasn't much going on in terms of atmosphere when I was in but it was a Thursday night before the uni's started back so maybe that was to be expected. I enjoyed my trip here and the next time my friend wants to catch up I'd have no qualms about Gumbo being the venue again.
GUMBO REVIEW
Food: 4/5
Atmosphere: 3/5
Value for Money: 4/5
For more information follow Gumbo: Website |  Facebook | Instagram | Twitter
Follow Chris Eats for more posts: Facebook | Instagram | Twitter