VIVA LA REVOLUCION
| Follow: @doghousemcity |
With all the eating out I've been doing lately I've been looking for ways to make the budget stretch a little further so took to some deal sites to see what I could find. With that in mind, every now and again I'll be telling you about 'Cheap Eats' I've found and whether or not I recommend them.
First up then is Doghouse Merchant City, the deal, via Itison, was £15 for a whole beer can chicken, sides for two plus a pint of beer each … I may have added another couple of sides for good measure! Now I'll start by saying I'm a huuuuuuge fan of BrewDog's craft beers; Punk IPA and Jet Black Heart in particular.
I've also been to Doghouse a couple of times before for burgers and the trinity sampler which were both very good. Beer can chicken though, is something that's popped up on my feed a few times at various places and I was eager to give it a try! So where better than at one of my favourite breweries?
For those who've read previous posts you'll know the only thing I like as much as my food is my beer! Places like Doghouse really are the best of both worlds as far as I'm concerned. I can enjoy some pretty good food and indulge my love of craft beers to boot. Doghouse may also have the best BBQ sauce I've tasted yet (Kansas City BBQ pictured above) but would have to fight it out with Dennistoun Bar-B-Que for that honour.
If you don't know, Doghouse is located in the Merchant City on Hutcheson Street and has a full BrewDog bar inside as well as a BottleDog for all your takeaway beer needs. They also have plenty of outdoor seating for those rare days in Glasgow that are rain free. There's always a great atmosphere in the place, it's always busy and there's usually a dog or two kicking which I quite like.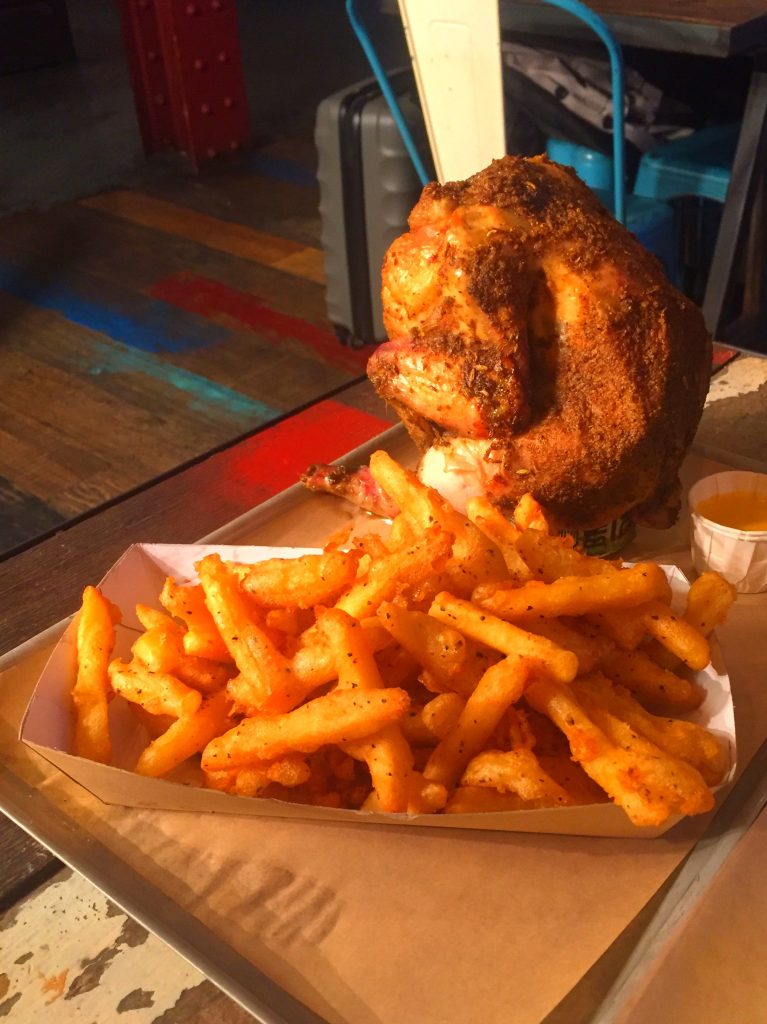 It's hard to explain beer can chicken to someone who hasn't had it before and make it seem good but that's what I'll endeavour to do. Beer can chicken gets its incredibly tasty meat from the steamed beer rising through the chicken from a beer can inside it. My first thought when the chicken was brought out was that it looked and smelled amazing; my second thought was how the hell do I eat this? The answer: with great difficulty and mess to begin with but ultimately it was worth it.
The chicken itself was delicious, the skin had a herb rub over it that oozed with flavour and the meat itself was juicy and full of flavour. Despite the trials of shredding the chicken apart i'd definitely recommend this. The presentation alone was worth it and it tasted oh so good!
The eagle eyed amongst you will have noticed that the chicken is not alone in the above picture. That, alongside them is crack fries; basically fries, with black pepper, deep fried and served with a cheese sauce. A simple side but a good side, whats not to like? Fries, good! Deep fried, good! Cheese, good!
Lets look at the rest of the dinner lineup. As I said I added a couple of extra sides; in total we ordered the beer can chicken, crack fries, mac'n'cheese, halloumi fries and spicy pickles. This came with 2 pints of beer and including the Itison deal came to a total of £22.50 which is more than reasonable for dinner for two. Deals like this can be a lifesaver just before payday when you fancy a little treat.
Anyway, back to the food! The sides for the most part were very good! The crack fries as I've said were good and perfect for dipping in not only the cheese sauce but also the aforementioned Kansas City BBQ sauce which was used with everything in fairness.
Next up was the mac'n'cheese which was very good and a good sized portion considering it can be quite filling. It wasn't fancy in any way compared to others I've had but it was very tasty and exactly what I was looking for. The same could be said of the halloumi fries, simple but tasty! Great bar food nibbles while enjoying a few beers or excellent sides with dinner.
The spicy pickles were my least favourite side but only because they weren't as spicy as I hoped. I also wasn't sure what to expect from them if I'm honest. They did however remind me of pickle rick which made me chuckle and therefore made them worth ordering for that alone.
I've really enjoyed all my visits to Doghouse and the food has always been very good regardless of what I've ordered which I think gives you confidence to try more from the menu. The deal I purchased for this visit was excellent value and I'd definitely recommend it to anyone who fancies checking out Doghouse. I'd also recommend it to anyone looking for a great dinner and enjoyable evening as that's exactly what I had.
DOGHOUSE REVIEW
Food: 4/5
Atmosphere: 4/5
Value for Money: 5/5
For more information follow Doghouse: Website |  Facebook | Instagram | Twitter
Follow Chris Eats for more posts: Facebook | Instagram | Twitter